<<
Back
Children's Theatre: One Man Shoe
27 July 2018
One Man Shoe
ONE MAN SHOE – children's theatre performance alongside Playscheme but also open to the public.
One Man Shoe is a delightful, dynamic and uplifting show for children and families, performed by Jango Starr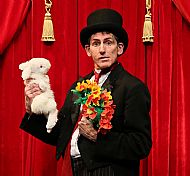 When the headline act fails to show up, Jango, a bumbling theatre caretaker, is suddenly thrust into the limelight and embarks on a hilarious journey of highly crafted and heartfelt silent comedy, magically realising his dream of transforming into a star!
You can watch a video trailer of the show here onemanshoe.uk/video
Jango Starr's unique style of silent physical theatre includes contemporary circus clowning, slapstick comedy, puppetry, juggling and absurd magic. A truly unique performer with more than 25 years of international experience, his gift lies in his ability to bring laughter and joy to all ages, touching the child in everyone's heart.
Director Gerry Mulgrew Composition & Sound Design Philip Pinsky
Designer Becky Minto Choreographer Janis Claxton
For those not attending Playscheme: doors open 1:15pm, start time 1:30pm. Duration 55 minutes.
Non- Playscheme children £3, accompanying adults free
<<
Back
Cinema Night: DARKEST HOUR
27 July 2018
Starts: 19:30
DARKEST HOUR
Within days of becoming Prime Minister, Winston Churchill must face one of his most turbulent and defining trials: exploring a negotiated peace treaty with Nazi Germany, or standing firm to fight for the ideals, liberty and freedom of a nation.
Certificate PG, run time 120 minutes
Start time 7:30pm, tickets £5 (under 18s £3) at the door